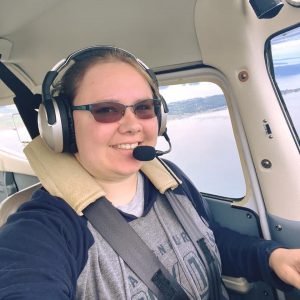 Elizabeth was introduced to aviation first in 2016, when she began her first "real job" out of college working for the Heritage Flight Museum in Burlington, WA. It was here that she met Lyle Jansma, who volunteered as a photographer for the museum. Upon learning about her talents as a writer, Lyle proposed that the two collaborate on stories for publication featuring her writing and his photos. From there, Elizabeth was all in learning as much as she could about aviation and airplanes, focusing on honing her knowledge to be an effective story teller. Her work can be found in Warbird Digest, EAA Sport Aviation, Flypast Magazine, and Cessna Owner Organization magazine, where she now serves as a member of the editorial board and a contributor to the monthly magazine. 
It took a trip to EAA AirVenture Oshkosh in summer of 2016 to truly change her perspective from loving to learn about airplanes, to considering the thought of flying them. It had long been something that "other people" did, until she realized that aviation truly is for anyone. In 2017 she began to take flying lessons and by 2018 she became a Private Pilot. She was able to be introduced to even more aspects of aviation as she helped her friend Lyle maintain his own airplane in exchange for being able to fly it. It was through these experiences she was able to really get her hands dirty and learn everything she could about the Cessna 172 that she flew. 
In 2020, she began an official 50% owner in the Cessna 172 with Lyle and she continues to fly and build time towards ratings, having already earned her Instrument Rating and Commercial Pilot Certificate. In 2022, she made the change to work full time for Six Pack Aero, running the office and overseeing operations in the shop. She played an integral part in creating the Quality Manual and procedures for the company's first PMA, and is the lead liaison with the company's team of DER's and the FAA to pursue further product certification. 
Elizabeth's ultimate goal is to become a CFI and be able to share her love of flying and learning with future students, and continue to work hard helping Cessna owners with affordable upgrade solutions for their aircraft.